[Info] Changes to Hexui's client download page.
18-Jul-17, 02:08
Menalix
Admin/Developer


Posts: 5,513
Joined: Jan 2014
Reputation: 175
Besides the cheat changes already described in our private section. We have altered our download page, due to a problem with Anti-Virus software.

Some Anti-Virus with web-shield enabled blocks .exe downloads from our domain since we can't code sign uniquely generated .exe files. We have now come up with a solution to this problem.

Way too many people used to disable their Anti-Virus, we do not want to encourage people to disable their PC's safety, the Anti-Virus.
We always tell people to whitelist Hexui as a domain, but for some, that is a hard task, and whitelisting domains can be risky.

From now on the client download page, you will have two options when downloading:

1. As .EXE, this is the ordinary way which many AV's web-shields blocks, due to the trust of our domain, and the file isn't code-signed, if you use this you might have to whitelist the Hexui domain depending on the anti-virus you use, which is not recommended, unless you whitelist the full path: 'https://hexui.com/forum/loaderdownload.php*'

2. As .ZIP (password protected) by password protecting the .ZIP file AV's web-shields can't see the file, and you will not need to whitelist hexui.com or disable your AV but will have to extract the client manually from the archive on your PC.

Here's a picture: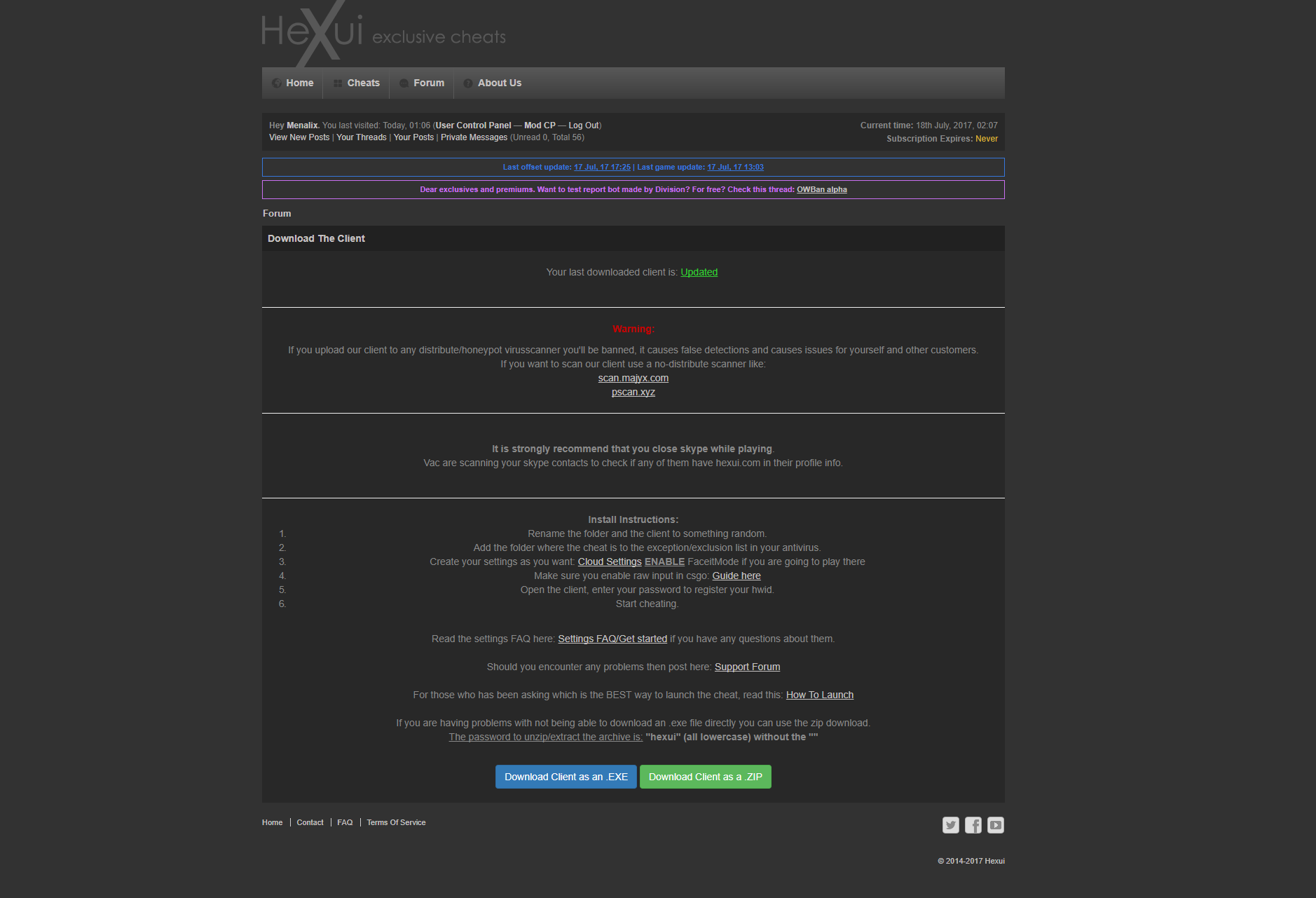 Kind Regards Division and Menalix.
18-Jul-17, 02:47
Real
Member


Posts: 276
Joined: Nov 2015
Reputation: 33
This will help so many users, great work guys.
18-Jul-17, 04:33
NakedCakes
Member


Posts: 5
Joined: Jul 2017
Reputation: 0
Looks really clean too, nice addition
18-Jul-17, 09:03
KeyLogger
Member


Posts: 16
Joined: Feb 2017
Reputation: 0
You are very helpful, thanks
25-Jul-17, 20:13
Pawzy
Dank Furry

Posts: 382
Joined: Aug 2016
Reputation: 27
Gr8 work as always

Subscription expires: Never
Rip me dremz
User(s) browsing this thread: 1 Guest(s)